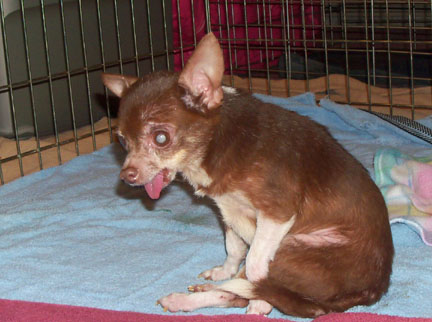 ........This is LILY She has been taken into LOTDR, and is "Forever Ours"!
---------------------------------------------------------------------------------------------------------------------------------------------------------------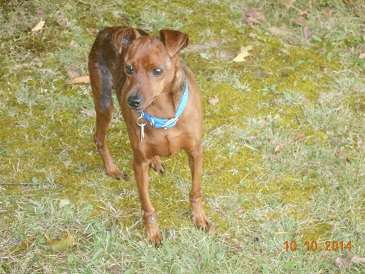 ..........This is Otis
6/25/22 - After 9 years with us in our home, Otis lost his battle with old age complications. We are missing him tremendously. He was a very loving and devoted boy.
Update 10/8/15 - Otis continues to be alert and expressive, as he adjusts to his mobility limitations. Medications are being gradually reduced as his skin condition improves.
Update 11/22/14 Otis needs consistent monitoring to make sure he doesn't irritate his healing sores. The vet put him on a temporary medication to quicken his skin healing. His spirits are happy dog, even though he is not as mobile as he would like to be. Otis is eager to please people.
Update 10/12/14 Otis came in a stray in bad shape and wary of people and dogs. That is all changing. His bed sores are healing (soft bed! ). The mat in the one picture is to keep him off stones and hard surfaces for now. His vet says his xrays are the kind he likes to see. We wanted to know why he was limping. Possibly a strain muscle/ligament, or an old injury that didn't heal properly. He is gaining strength in his hind legs every day and even tries to run. He has the cutest prance. He is very trusting of people and other dogs. He is curious, attentive and careful. He is learning his name, and comes when called, loves being petted and belly rubs. Otis responds very well to praise and treats. Come meet him Sat. Oct 18 at Pet Supply Plus Adopt-a-Thon, Elyria, Ohio between 10 and 2.
9/27/2014 - Male Red MiniPin: Otis is a 10# Male Min Pin from the county shelter. He was found wandering the street by a school- age child who's family brought him to the safety of the shelter He has several bed sores that suggest he laid on concrete for long periods. His spots of hair loss suggests flea infestation. He favors his right hind leg suggesting an old injury or maybe a sprain. X-rays indicated good joints and he is walking more and more on it and letting me massage it. He even does a happy prance when greeting us. Otis has had his rabies/booster/bordatella shots, received Comfortis for fleas, and is neutered. He loves his soft bed. It was sad when I tried to coax him in the one picture to lay in the soft grass at the kennel, he went back to the concrete slab there to lay. It was as if he thought he had to or didn't know he could lay anywhere else. He loves belly rubs, and responds to praises and food. Due to his sensitivity to touch around his back leg he would be best in a home with older children or a person with no children.